Ever thought about downloading files directly to google drive or any other cloud drive? Sometimes internet/server speed might be very slow and the file may be of huge size.It will take a long hours to download those files locally in your system.So, a better option would be to upload those files to a cloud storage download it when required.In this page, I will introduce some good websites to save web files to cloud drives.

Save any files from internet to Google Drive, Box or Dropbox without downloading it to your computer and reuploading it to drive. Additionally, there is not any restrictions on the file size.Email notification is also available with progress report of upload progress. You can just enter the URL and close the tab, file will be uploaded.This services is certainly good if you want to simultaneously save many web files.They also adds support for many other cloud drives with each update.
Transfer of files are super fast.
Sometimes remote upload of files get stuck after certain percentage of transfer.You have to re-upload that file again.

Thoaimedia supports remote upload to multiple cloud drives and video sharing sites including Dropbox, Google Drive, Box, SkyDrive, Picasa, Google Photos, Youtube, Mega.nz, VK, ok.ru, Dailymotion and Facebook.The files will be downloaded even if you close the browser tab.But the transfer speeds are low and files may not get transferred at all.
Upload progress is not shown.
Upload of large files fails often and transfer time is also high.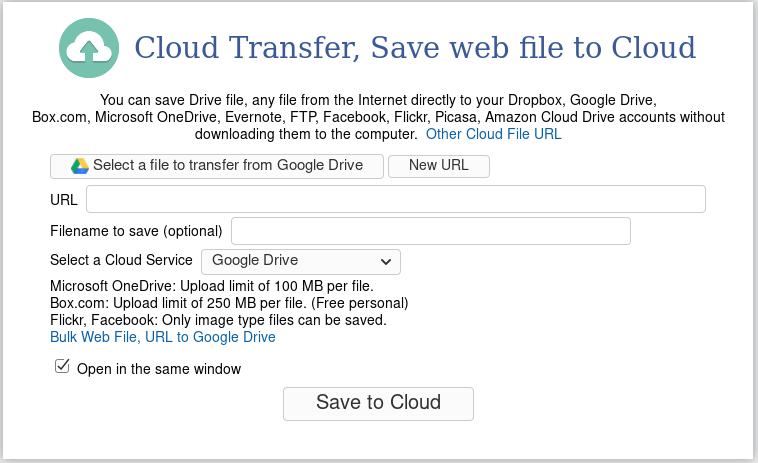 You can save Drive file, any file from the Internet directly to your Dropbox, Google Drive,Box.com, Microsoft OneDrive, Evernote, FTP, Facebook, Flickr, Picasa and Amazon Cloud Drive.I have not personally tested their service.
Are you aware of any other web services providing remote uploading? Share them in the comment section below.